Competition Fuel Cell Unit

FUEL CELL FUEL PUMP HANGER WITH INTEGRATED SURGE TANK

---
The next step in handling your demand for fuel delivery in motorsports. The CFC Unit is a fill plate replacement unit for existing aftermarket fuel cells from ATL, Fuel Safe, Pyrotect etc with an integrated fuel surge tank with the ability to mount single or dual high flow fuel pumps within the fuel cell.
Let us show you the benefits of the CFC Unit and how it works.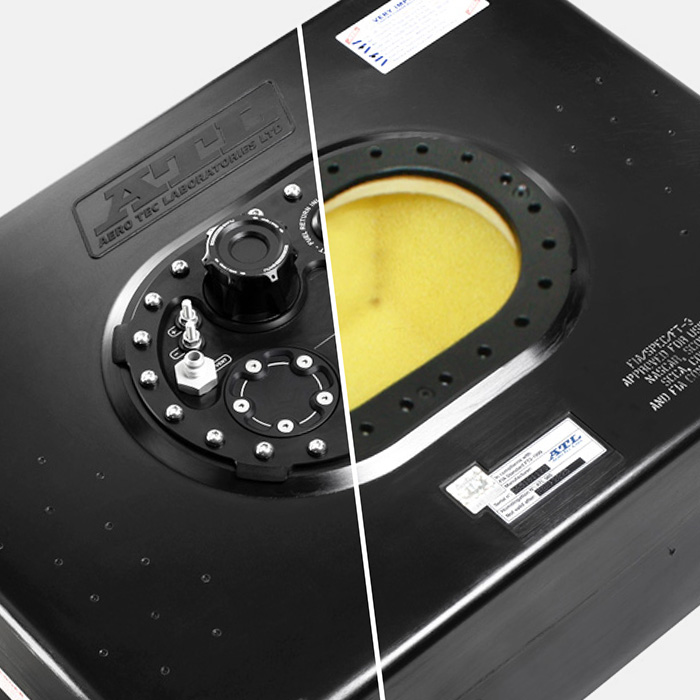 We offer the CFC Unit in combination with the popular and affordable Saver Cells from ATL Ltd. We offer these cells together with our drop-in fuel pump hanger, ready to go!

The well-known fuel cells from ATL, constructed from a unique, tough plastic alloy in combination with the Nuke Performance fill plate replacement unit with integrated surge tank and fuel pump hanger.
FIA FT3-1999 approved fuel cell
1 or 2 internal fuel pumps into 1 fuel line

Full foam baffling for petrol and E85
An affordable solution, with everything you need and without the need of an external surge tank. Together with ATL, we deliver these ready to use fuel system - go hit the track! FIA Approved fuel cell ready for high flow and high-performance fuel system. For more information, visit the product listing here or click the button...
The ATL fuel cells come in various sizes and we have listed a variety of popular sizes between 40-80 liter, if you prefer any other size please contact us and we will help you out.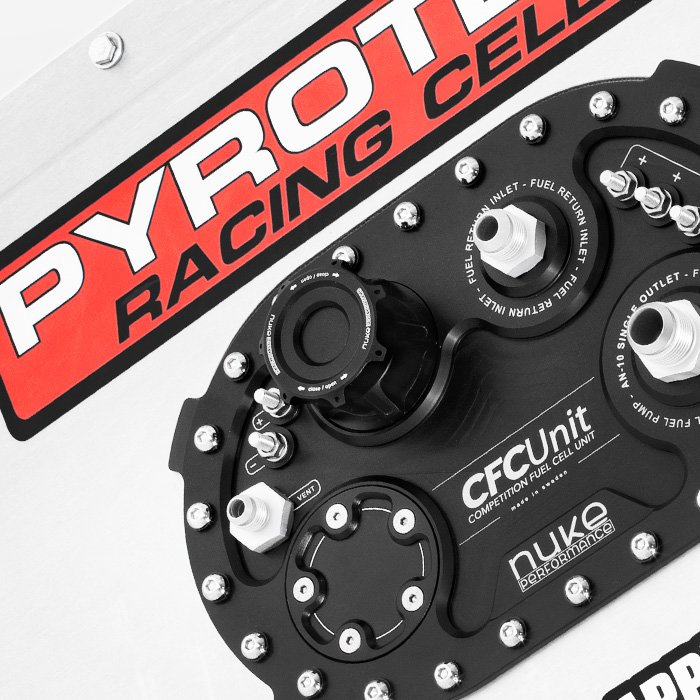 Ultra-durable double coated urethane fabric bladder delivered with the Nuke Performance CFC Unit. This extremely light-weight solution takes your fuel system to the next level.

When it comes to fuel cell development, Pyrotec is in its front line with their safe, lightweight and durable urethane fabric bladders. In combination with the Nuke Performance fuel cell unit, this is the next generation of fuel delivery - fuel cell, surge tank and full pumps in one single unit with a single outlet.
Next-generation ultra-durable bladder

For motorsports use, FIA / FT3 Approved

100% E-85 Approved

Extremely light-weight fuel setup
FIA Approved fuel cells delivered with the Nuke Performance drop in fuel pump hanger with integrated surge tank and fully approved for alcoholic fuels such as E85. Delivered ready to use together from the Pyrotect Racing Cells factory in an official partnership together with Nuke Performance.


The next level

Implements the surge tank within the fuel cell in a single step.

The next step in our way of handling your demand for fuel delivery. We´ve put our hearts into making this the lightest fuel cell surge tank to this day and with the simplicity our customers demanded.
Fits your standard Aftermarket Fuel Cell

Lightweight construction
Integrated 2L Fuel Surge Tank function
Single AN-10 ORB Fuel Outlet
Single or Dual internal Fuel Pump
Internal fuel pumps

Single lift pump with single or dual Fuel Surge Tank fuel pumps

The advantage of our best-selling Fuel Surge Tank we integrated our well proved Swirl Pot function into the Nuke Performance CFC Unit and made it possible to go with a single or dual setup with popular high performing fuel pumps such as Deatschwerk DW400 and Ti Automotive GST 450 / 520 / 525 mounted within the cell.
Deatschwerks DW400 in single or dual setup
Single or dual Walbro GST 450 / GST 525

All 39mm fuel pumps such as AEM 320L E85

Integrated 2l Fuel Surge Tank

The best of two worlds, the security of the Fuel Cell and the functionality of the Fuel Surge Tank / Swirl Pot.
The idea of putting the Surge Tank into the fuel cell isn´t new but we have made it in a much lighter version, with the possibility to choose fuel cell, fuel pump etc for yourself without compromising or being limited.
The internal volume of around 2 liter making it effective yet small enough to make it fit some of the smallest ones of Fuel Cells from the leading brands. With the internal billet brackets, you have an easy, functional and effective installation procedure to put high flowing fuel pumps into the Swirl Pot from brands such as Deatschwerks, Walbro, AEM, Bosch etc.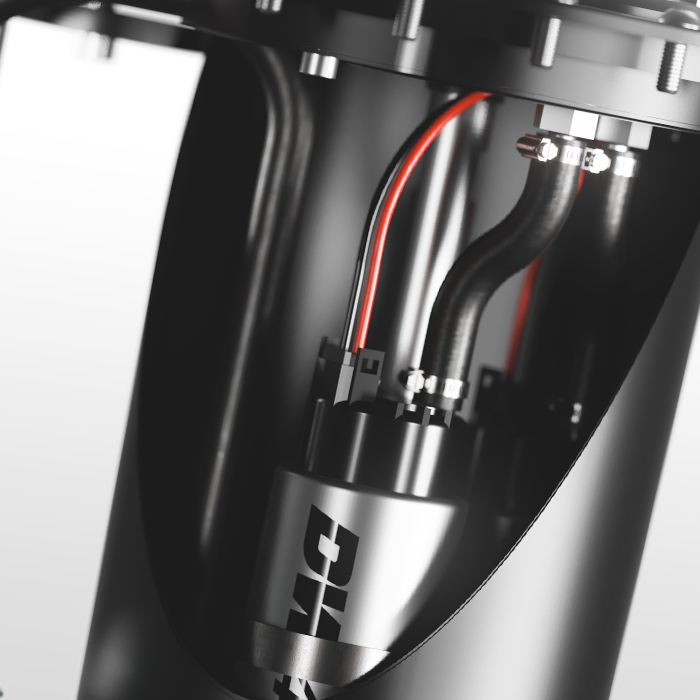 Fuel Cell fill plate

Made to make a perfect fit with the popular fuel cells from ATL, Pyrotect, Fuelsafe, Premiere and others.

The Nuke Performance Competition Fuel Cell Unit is a fill plate replacement for fuel cells from market leading manufactures including ATL, FuelSafe, Jaz, Harmon, Pyrotect and several others. It has a 6x10" design with the standardized 24 bolt pattern to fit most manufacturers fuel cells.
The CFC Unit is used to minimize the risk when running on low fuel level, that the system not cope with the demanding g-force that can occur within motorsport, which results in fuel loss. With the CFC Unit you do not need a external Surge Tank, making this a clean and efficient installation with minimum of wiring and tubing.
24 bolt standardized bolt pattern
For Fuel Cells from worldwide brands
The Parts that make it happen
1 - Lift pump, minimum mounting depth 219mm
2 - Fuel Surge Tank unit, 2liters for 1-2 fuel pumps
3 - 24 bolt pattern 6x10" fuel cell top lid
4 - 5 bolt pattern Fuel level sender block off plate
5 - 3/4 AN-6 Vent fitting with rollover valve
6 - Electrical connectors for the lift pump
7 - Filler cap, 38mm internal diameter or 50mm hose fitting
8 - AN-8 ORB return inlet threaded port
9 - Electrical connectors for FST fuel pumps
10 - Single AN-10 ORB outlet threaded port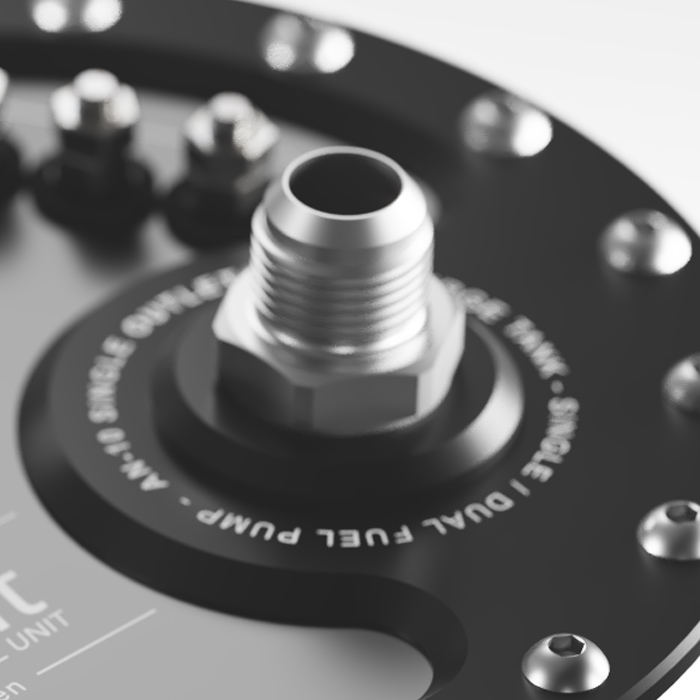 Single AN-10 ORB outlet
Single or dual fuel pump combined into one fuel line without pressure loss, this is thanks to our oversized design.

With the correct dimensions and the right way to design the part from the beginning, we combined the fuel lines from a single or dual internal fuel pump into one single outlet port. This makes that you need fewer fittings, hoses, filters, etc. Why use more when you can both save weight and costs?
With the AN-10 ORB outlet port, you can choose from a wide variety of available fittings from AN-6 to AN-12, your choice depending on needs and the fuel filter setup. We always recommend you to go with our PF200 Performance Fuel Filter with its unique stainless steel 10-micron filter element, do you get the idea now - Nuke Performance setup is possible to use with a single fuel line for up to even over 2000hp, and this with only a single fuel line.
Updated AN-8 and AN-10 ORB threads
1 or 2 internal fuel pumps into 1 fuel line

Optimized and trouble free functionality
The Nuke Performance Competition Fuel Cell Unit, CFC Unit allows you to choose your preferred setup without the need to know exactly how your fuel system will turn out - it gives you the possibility to choose - we just decided on the most obvious choices for you.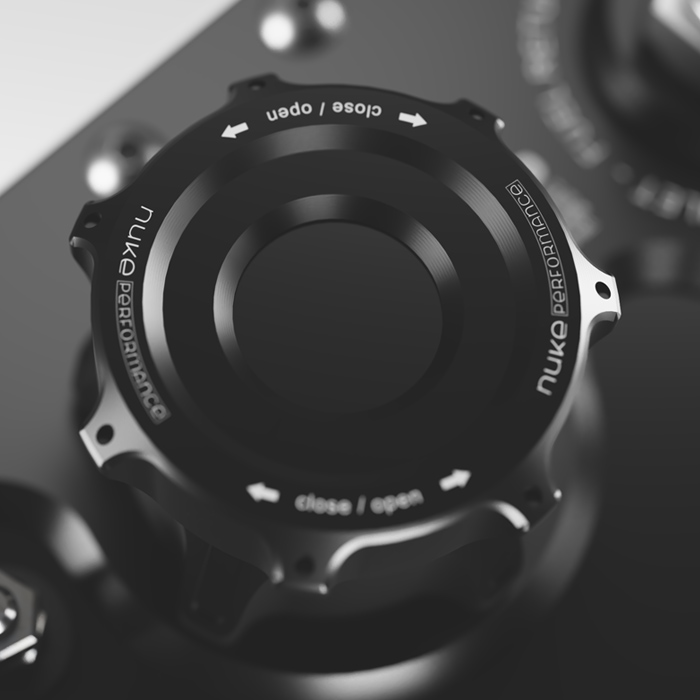 Fuel filler cap or 50mm hose
The Competition Fuel Cell Unit from Nuke Performance comes with the Billet fuel filler cap unit included ready to use with its own roll-over protection underneath.

The Nuke Performance CFCU comes with everything you need for installation included in the package, such as the billet fuel filler unit with its billet cap. Perfect grip, lightweight construction and the strongest construction available for maximum security.
If you prefer a non-direct fuel filler placement, we also have a fuel hose connector for 50mm hoses. This fitting is additional and is for those who wants the fill neck to be able to connect to additional fuel tank refill hose. The Nuke Performance CFC Unit is not intended to be used with Quick Fill Setups, neither with the included filler neck or the additional 50mm fuel hose fitting.
Internal diameter of at least 38mm

Roll-over valve for all provided fill necks

Billet design for maximum grip and function
The additional filler neck is made for 50mm hose and is made for hose clamp connection.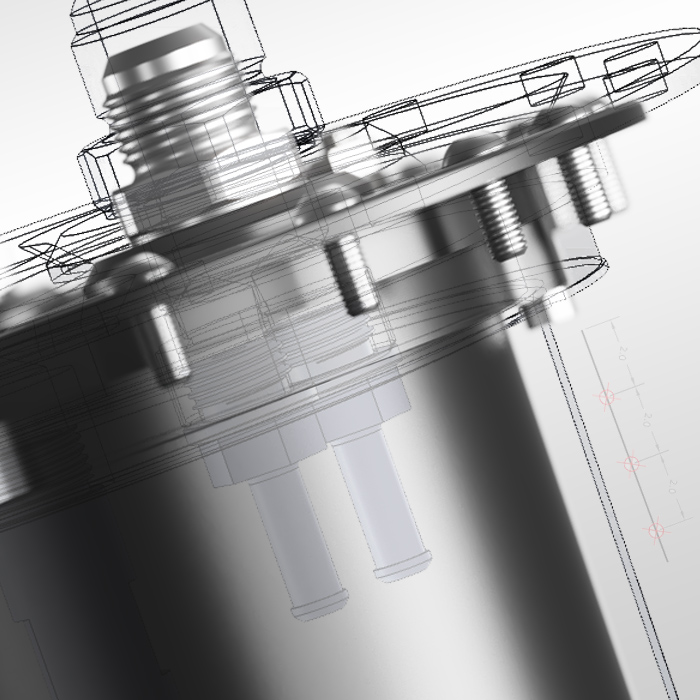 Low weight in focus
When you combine performance with our distinctive design philosophy, you get results that exceed expectations.

When it comes to motorsport, either if you are a professional or if you just that guy that spends all your time on track days - to hunt weight in every possible way is as effective as turning more horsepower. With our design of the Nuke Performance CFC Unit we managed to bring you a Surge Tank for integration within a fuel cell, lighter then anything else on the market, even up 30% lighter then competitors solutions.
Lowest weight "drop-in surge tank" available
As always, Made in Sweden with pride
And as always, the parts that leaves us is doing so with a "Made in Sweden" label on them, we do not take any shortcuts when it comes to quality and finish of our performance parts and develop, design, construct and assemble in house at Nuke Performance HQ in Sweden. It makes a big difference - if you don´t believe us, get your hands on this unit and you will know what we´re talking about.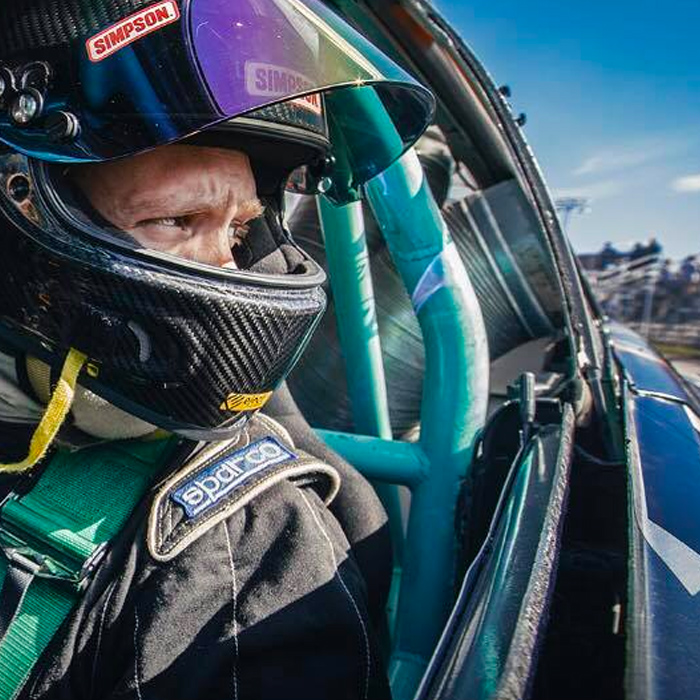 "Now that´s quality"
The Nuke Performance CFC Unit is developed in close connection with motorsport at its finest.

When it comes to demanding needs - Mårten Stångberg from Team Lovetap knows what it takes. We asked Stångberg to join us in the development of our brand new CFCU and he didn´t even think twice.

When building a competitive car for drifting you are always faced with the challenge to build a reliable setup that never let you down on track. This is why I´ve run with Nuke Performance products on all my builds during my 10 years of driving and I still haven´t had a single failure... Now that´s quality at its finest!


Mårten Stångberg - Team Lovetap
Products mentioned on page
€ 806,25

€ 806,25

€ 861,25

€ 216,38

€ 268,75

€ 273,75