CFC Unit / Fuel Cells
Nuke Performance Competition Fuel Cell Unit
We offer the next step in the way of handling the demands of fuel delivery. The CFCUnit is a fill plate replacement unit for existing aftermarket fuel cells from ATL, Fuel Safe, Pyrotect, etc with an integrated Fuel Surge Tank with the ability to mount single or dual high flow fuel pumps within the fuel cell.

The next step of innovation for motorsport Fuel Cells
Fits your standard aftermarket fuel cell with the 6x10" 24 bolt pattern fill plate. Lightweight construction for motorsport usage and with an oversized single outlet that lets you combine dual fuel pumps into a single fuel line for a trouble-free installation. The billet internal brackets fit all 39mm fuel pumps such as Walbro GST 450 and are also able to mount larger fuel pumps such as Deatschwerks DW400.
HOW DOES IT WORK? - FAQ
HOW DOES IT WORK? - YOUTUBE
REMOTE FILLER OPTIONS - ACCESSORIES
SPARE PARTS & ACCESSORIES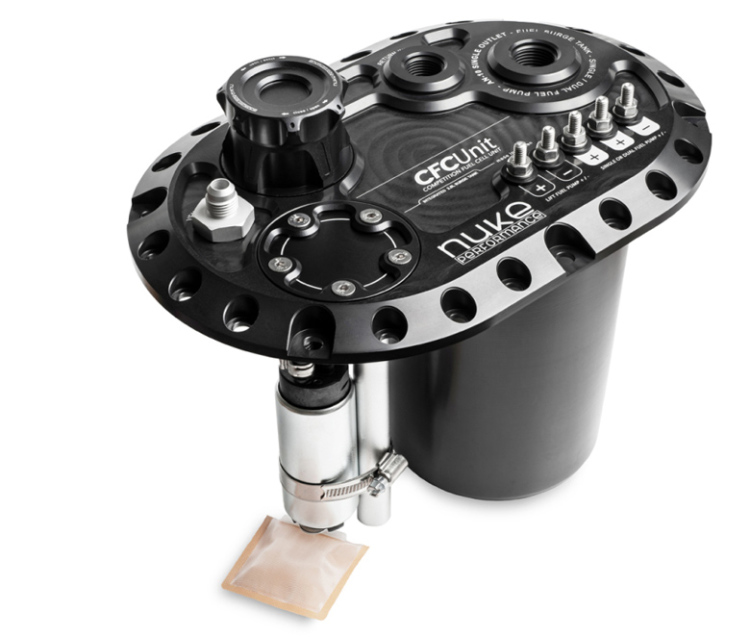 ---
DID YOU KNOW THAT ALL OUR PRODUCTS COME WITH A 60 DAY SATISFACTION GUARANTEE?
WHEN ORDERING OUR RANGE OF PERFORMANCE PARTS ONLINE WE OFFER FAST SHIPPING WORLDWIDE