Fuel Pressure Regulator FPR90 AN-8
FAST SHIPPING WORLDWIDE
60 DAY SATISFACTION GUARANTEE
SAFE AND SECURE PAYMENT METHODS
Product information
Nuke Performance FPR90 Fuel Pressure Regulator: Stable fuel delivery for all applications from 300 – 1400hp.
The Nuke Performance FPR90 fuel pressure regulator is a tried and true fuel pressure regulator trusted among motorsports teams worldwide. It is specially developed for extreme power output, maintaining a steady fuel flow for engines ranging from 300 to 1400 horsepower.
Safe for petrol, methanol, and ethanol
Adjustable up to 90 PSI (6.2 bar)
1:1 boost reference
Stainless steel mounting bracket
AN-8 fittings included
Made in Sweden
The internal fluoronitrile diaphragm is designed to stand up to the destructive properties of all fuels, including methanol and ethanol, ensures a fast response rate, and maintains steady fuel delivery during dramatic changes in fuel demand.
1:1 boost reference with precision pressure adjustment
The FPR90 utilizes a hardened steel ball with a replaceable steel seat to allow fuel pressure adjustments up to 90 PSI (6.2 bar) by simply turning the hex screw.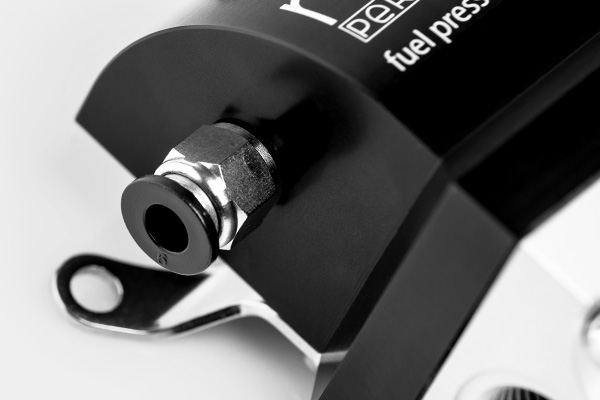 Ethanol-proof membrane rated for well over 1000 hp
Fuel pressure rises on a 1:1 ratio when referencing boost with precision pressure adjustment. The fuel pressure is dialled in using the set screw on top. With the dual inlet design, you choose between a left or right inlet or dual inlet for V-engine setup. 1/8" NPT thread faces forward for easy to read fuel pressure gauge/fuel pressure sensor installation.
The stainless steel mounting bracket that´s included ensures a safe, tight mounting of the fuel pressure regulator. Fits most engine bay compartments thanks to its clever design which holds it away from the surface it is mounted upon.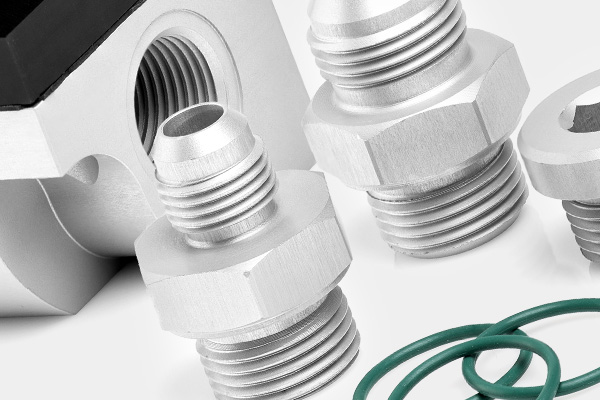 Comes ready to install, with all needed fittings included
Delivered with an AN-8 to AN-8 Male (3/4 UNF thread) inlet fitting, an AN-8 to AN-6 Male (3/4 UNF thread) outlet fitting, a single AN-8 Plug (3/4 UNF thread), and a quick-connect 6mm pneumatic vacuum fitting, that uses the same system as the other items in our vacuum range.
Additional AN-6, AN-8 and AN-10 are sold separately.
AN-8 - AN-6 Male #: 700-01-101
AN-8 - AN-8 Male #: 700-01-102
AN-8 - AN-10 Male #: 700-01-103
4 mm Barb Fitting Part #: 300-10-112
Developed, designed, and manufactured in Sweden
The FPR90 Fuel Pressure Regulator is developed, designed and manufactured in Sweden by Nuke Performance for the highest possible quality and with the same hallmark as all the other parts in our lightweight motorsports range. There is no substitute for the quality of Nuke Performance!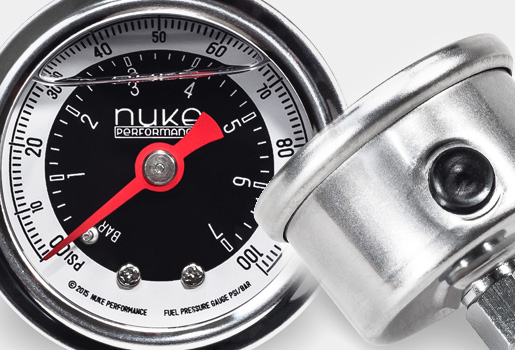 Optional Nuke Performance fuel pressure gauge, 0-100 PSI (7 bar)
For the ultimate experience with your brand new Nuke Performance FPR90 fuel pressure regulator, you should supplement it with our precise and stylish fuel pressure gauge that fits straight into the 1/8" NPT threaded outlet on the front of our regulator.
Part #: 310-01-101
---
Assembly instruction (.pdf)
How does it work? - FAQ
Spare parts / Accessories
Specifications
Technical Information :
• CNC manufactured from aluminium alloy 6082.
• Fully adjustable from 35 PSI to 90 PSI (6.2 bar).
• 100% safe for all fuels including petrol, E85, and methanol.
• Delivered with 1x AN-8 to AN-8 Male (3/4 UNF thread), 1x AN-8 to AN-6 Male (3/4 UNF thread), 1x AN-8 Plug (3/4 UNF thread) and 1x Quick Connect Pneufit 6 mm.
• 1/8" NPT thread for fuel pressure gauge / fuel pressure sensor.
• AN-8 3/4 UNF threaded inlet / outlet ports.
• Stainless steel bracket for safe mounting.
• Anodized finish for long lasting function and corrosion free appearance.
• Laser engraved.

Measurements :
Height : 101 mm
Width : 65 mm
Depth : 50 mm
Bracket CC : 65 mm
Weight : 496 g

Included in package :
1 x Regulator body
1 x Stainless steel bracket
1 x AN-8 Plug 3/4 UNF
1 x AN-8 to AN-8 Male 3/4 UNF
1 x AN-8 to AN-6 Male 3/4 UNF
1 x 1/8 BSPP 6 mm Pneufit Quick Connect
1 x 1/8 NPT Plug
Other products of the same brand
You may also be interested in