Blow Off Valve
Nuke Performance 50 mm Blow Off Valve
We offer a high performing piston type Blow Off Valve with either connection for hose or with v-band connection with our own v-band clamp and welding flange. It features a large 50 mm valve; we believe this is the largest valve available with the highest flow capacity. Used by motorsport around the world and is one of our best selling products, even when it´s not related to fueling.
Easy setup and choose V-Band or hose connection
The Blow Off Valve comes with a blue spring installed, the blue spring is for 0,35 - 0,50 bar (5,07 - 7,25 psi) engine vacuum at idle. We also have additional springs for 0,00 bar all the way up to 0,75bar. See the assembly information for more info regarding the different springs.
ASSEMBLY INFORMATION
SPARE PARTS / ACCESSORIES
HOW DOES IT WORK? - FAQ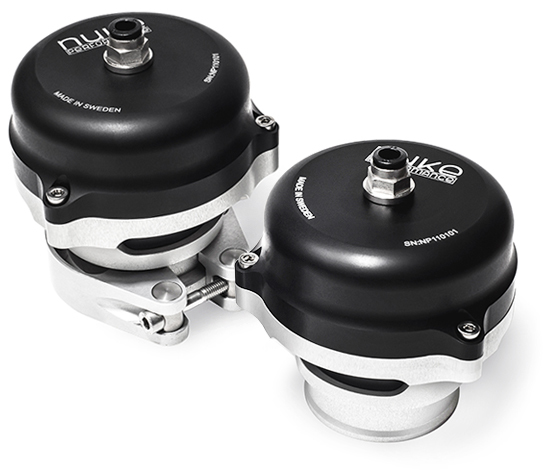 ---
DID YOU KNOW THAT ALL OUR PRODUCTS COME WITH A 60 DAY SATISFACTION GUARANTEE?
WHEN ORDERING OUR RANGE OF PERFORMANCE PARTS ONLINE WE OFFER FAST SHIPPING WORLDWIDE