Fuel Rails
Nuke Performance Motorsports Fuel Rails
We offer fuel rails for a wide range of engines from many different manufacturers, both as model-specific fuel rails, delivered without mounting brackets and as bolt-on solutions with everything you need. We believe this is the best fuel rail on the market with the highest flow capacity with the minimum flow loss.
Custom-designed according to your wishes
Every year we ship custom fuel rails to many parts of the world, let us know your needs and we can help you out with a custom rail for any needs and setups. All our fuel rails come with our unique stainless steel injector brackets and delivered with 3/4 AN-8 fittings, AN-6 - AN-10 is available as an option and we also have our own banjo fittings to be used in custom setups where space can be a decisive factor.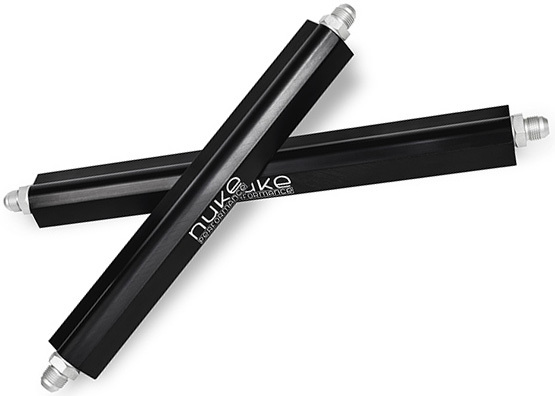 ---
DID YOU KNOW THAT ALL OUR PRODUCTS COME WITH A 60 DAY SATISFACTION GUARANTEE?
WHEN ORDERING OUR RANGE OF PERFORMANCE PARTS ONLINE WE OFFER FAST SHIPPING WORLDWIDE