Fuel Pressure Regulator FPR100s
FAST SHIPPING WORLDWIDE
60 DAY SATISFACTION GUARANTEE
SAFE AND SECURE PAYMENT METHODS
Description
NEW PRODUCT : PRE-ORDER NOW - DELIVERY IN JUNE 2020
Nuke Performance FPR100s Fuel Pressure Regulator
Brand new, lightweight design, ethanol proof fuel pressure regulator with a slim design and easy to mount stainless steel brackets. Every unit is thoroughly tested before delivery, unmatched functionality, and the same high quality as all our motorsports products.

Lightweight motorsports regulator
100% E85 Proof
Performance and quality test of each unit
Adjustable up to 100psi (7bar)
Delivered with AN-6 ORB fittings
This is the most reliable solution to bring together a simple or complex fuel system setup for all types of tuning or motorsports engine setup. Redesigned and developed with weight and functionality in focus. Lightweight design with the same hallmark as our entire range of fuel upgrade parts and with an integrated stainless steel universal bracket for easy mounting in any engine bay.
Developed with high demands from motorsport
Co-developed with worldwide motorsports teams and fuel pump manufacturers, this fuel pressure regulator is set to perform under all conditions and for any horsepower requirement. It is designed and tested for usage with well over 1000hp and is fully adjustable between 2 and 7 bar (100psi). This is the best AN-6 fuel pressure regulator with the highest flow capacity. Delivered with AN-6 ORB fittings with alcoholic-fuel safe o-rings. AN-6 ORB to AN-8 male fittings is optional.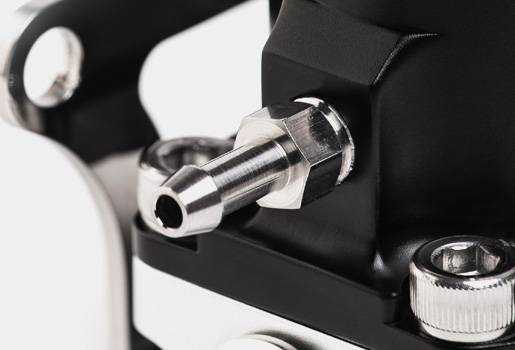 Each regulator is rigorously tested before delivery
To maximize the quality and functionality of the FPR100s, each individual regulator is tested before delivery. This test is performed in a test facility with world-leading test equipment that can detect even the smallest possible properties that negatively affect its function. There is no shortcut to excellent performance and functionality.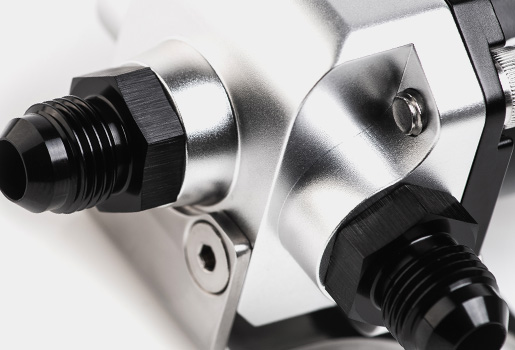 100% Ethanol Proof membrane and functionality
Like all Nuke Performance motorsports products, this fuel pressure regulator is developed, designed, and manufactured to be able to handle all alcoholic fuels such as ethanol. The fiber-reinforced membrane is of the highest possible quality and comes with our 100% E85 Proof approval. Worth to mention is that the FPR100s is as good at handling petrol as it is to handle alcoholic fuels.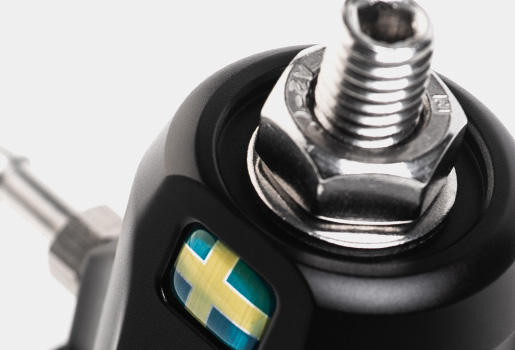 1:1 vacuum reference and high flow design with minimum flow loss
Fuel pressure rises on a 1:1 ratio when referencing boost. The fuel pressure is dialed in using the set screw up top with its hardened steel ball that enables exact and well-tuned fuel pressure setup. With a dual inlet design, you choose between left or right inlet, or dual inlet for V-engine setup if needed. 1/8" NPT thread faced forward for easy to read fuel pressure gauge/fuel pressure sensor installation. 5mm vacuum barb-fitting is included. The FPR100s are delivered with 2 x AN-6 ORB male adapter and 1x AN-6 ORB plug.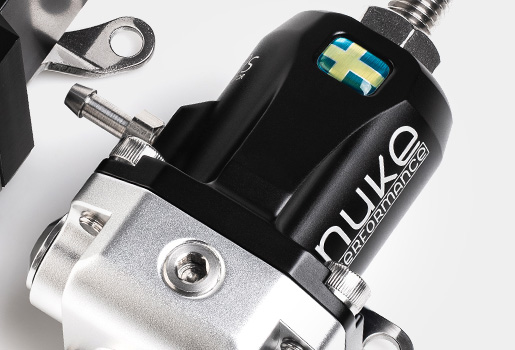 Developed in Sweden, guaranteeing the highest possible quality
Developed and designed in Sweden, inhouse by Nuke Performance. This is of the highest possible quality and with the same hallmark as all the other range of the lightweight motorsports range from Nuke Performance.
This guaranteeing the highest possible quality - there is no substitute for the quality of Nuke Performance.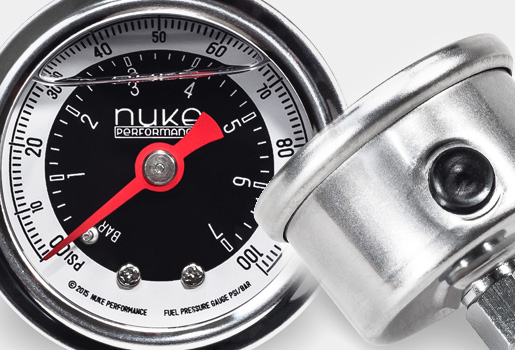 Optional Nuke Performance fuel pressure gauge, 0-100psi (7bar)
To get the ultimate and full experience of your brand new Nuke Performance FPR100s fuel pressure regulator, you should supplement your regulator with our precise and stylish fuel pressure gauge that fits straight into the 1/8" NPT threaded outlet on the front of our regulator.310-01-101
Partno: 310-01-101

FPR100s kit includes:
2 x 6AN ORB male adapter for fuel inlet / outlet ports
1 x 6AN ORB plug for the additional inlet
1 x 1/8" NPT plug for gauge/sensor outlet
1 x Barb fitting for 3/16 5mm pressure hose
1 x Stainless steel mounting bracket
2 x Stainless steel bolts for the mounting bracket

Technical info
Technical information :
• CNC manufactured from aluminium alloy 6082.
• Delivered with 2 x 6AN ORB male adapter and 1 x 6AN ORB plug.
• 100% safe for alcoholic fuels such as E85.
• Extremely lightweight design for motorsports use.
• Stainless steel bracket for safe mounting.
• Anodized finish for long lasting function and corrosion free appearance.
• Fibreinhansed nitrile membrane.
• Fully adjustable from 30 to 100 psi.
• High carbon steel tension spring.
• Laserengraved and proudly branded with the Swedish flag.

Measurements : *
Height : 80 mm
Width : 53mm
Depth : 46 mm
Weight : N/A

* All measurements without included brackets and fittings.
You may also be interested in