Honda 4cyl K Engine Motorsports Fuel Rail - Bolt-On
FAST SHIPPING WORLDWIDE
60 DAY SATISFACTION GUARANTEE
SAFE AND SECURE PAYMENT METHODS
Product information
Nuke Performance Honda DOHC i-VTEC K Engine Motorsports High-Performance Fuel Rail
Honda K series engine 4cyl high-performance bolt-on Motorsports Fuel Rail kit for all DOHC i-VTEC K-Series engines (K20, K24). Motorsports, lightweight fuel rail with unique injector safety clips that fit straight on the intake without heavy modifications. 100% safe for alcoholic fuels such as ethanol, E85.
Lightweight motorsports fuel rail
Unique injector safety clips
Made in Sweden
100% E85 Proof
Delivered with AN-8 fittings
Bolt-on fitment, everything is included for :
• Honda K Engine K20 / Honda K Engine K24
Give your engine over-dimensioned fuel flow for serious power outtake and the looks that are the Nuke Performance signum. Designed to look awesome and perform even better, this motorsports-grade fuel rail is the market-leading Honda K-series fuel rail with the most functionality and delivered with unique injector safety clips and bolt-on brackets for a safe and easy mount to this popular 4cyl engines from Honda. This is the new motorsports range of fuel rails from Nuke Performance, their lightest fuel rails ever with a new line of fittings and injector safety clips.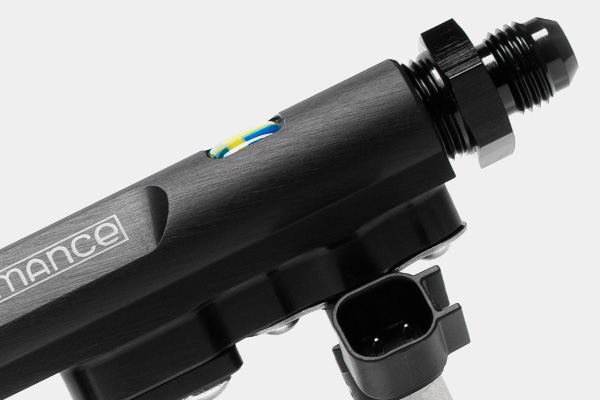 Developed with high demands from motorsport
Co-developed with worldwide motorsports teams, this fuel rail is set to perform under all conditions and for any horsepower requirement. This is the best fuel rail on the market for the Honda K-engines with the highest flow capacity.
Delivered with 2x 3/8" NPT to AN-8 Male fittings. AN-6 and AN-10 fittings are optional and sold as additional accessories.
3/8 NPT to AN-6 Male Part # : 700-04-101
3/8 NPT to AN-8 Male Part # : 700-04-102
3/8 NPT to AN-10 Male Part # : 700-04-103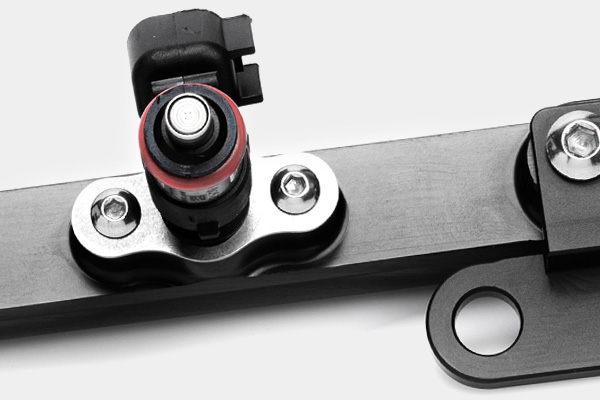 Injector Safety Clips ensures sealing and safety
A Nuke Performance unique feature is the injector safety clips that ensure the injectors maintain a perfect sealing even during extreme fuel pressure usage. Whether during assembly, installation on the engine or in the unfortunate case of an accident, the injectors will remain solidly to the fuel rail. No fuel is spilt even if the fuel pump continues to run or there is latent pressure in the fuel system. And when running high fuel pressure, the risk of the fuel rail rising from the injector disappears and you do not have to worry about engine fires due to unwanted fuel spray.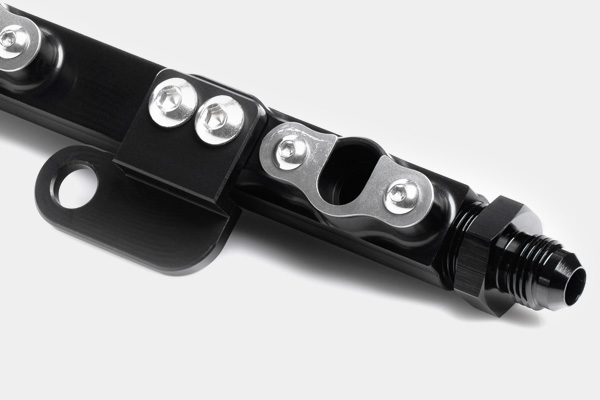 Bolt-on solutions including the needed fittings and brackets
This Honda K-series fuel rail kit comes with all needed fittings and brackets for an AN-8 fuel system. The kit comes with 2x 3/8" NPT to AN-8 Male fittings and sturdy lightweight aluminum brackets that guarantee a perfect fit against the Honda K engine intake and preventing any leaks and fuel pressure malfunctions. Make sure to use PTFE thread seal for all NPT fittings.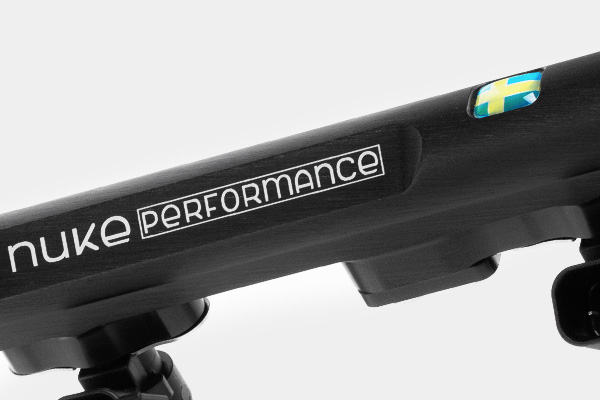 Made in Sweden, guaranteeing the highest possible quality
The Honda K engine motorsports fuel rail is developed, designed and manufactured by Nuke Performance for the highest possible quality and with the same hallmark as all the other parts in the lightweight motorsports range. There is no substitute for the quality of Nuke Performance!

Honda 4cyl K Engine Motorsports Fuel Rail includes:
1 x Motorsports Fuel Rail, 4cyl
2 x Aluminum lightweight brackets
4 x Stainless steel M6*8mm for brackets
2 x 3/8 NPT to AN-8 Male fittings
1 x 1/4 BSPP plug
4 x Injector safety clips
8 x Stainless steel M4*6mm for safety clips


Specifications
Technical information :
• Machined aluminium extrusion 6082-T6.
• Delivered with 2x 3/8 NPT AN-8 fittings, 1x 1/4 BSPP plug.
• 100% safe for alcoholic fuels such as E85.
• Extremely lightweight design for motorsports use, more then 40% lightes then our ordinary fuel rails.
• Stainless injector safety clips for safe seal operation.
• Billet bolt-on brackets for Honda K engine included with the kit.
• Anodized finish for long lasting function and corrosion free appearance.
• Laserengraved and proudly branded with the Swedish flag.

Injector fitment :
Fits EV 14S Standard injectors : OEM injector sizes.

Measurements : *
Length : 321 mm
Height : 28 mm
Depth : 20 mm
Weight : 203 g

* All weights and measurements are excluding fittings.
You may also be interested in