Porsche 6cyl 964/993 Fuel Rails
Add primary 3/8 NPT fitting
X
Add secondary inlet 3/8 NPT fitting
X
You can only make one selection per category.
FAST SHIPPING WORLDWIDE
60-DAY SATISFACTION GUARANTEE
SAFE AND SECURE PAYMENT METHODS
Product information
Nuke Performance Porsche 964 / 993 Engine Motorsports High-Performance Fuel Rail
Porsche 964, Porsche 993 engine 6cyl high-performance bolt-on Motorsports Fuel Rail kit for Porsche 6cyl 964 / 993 engines. Motorsports, lightweight fuel rail with unique injector safety clips that fit straight on the intake without heavy modifications. 100% safe for alcoholic fuels such as ethanol, E85.
Lightweight motorsports fuel rail
Unique injector safety clips
Made in Sweden
100% E85 Proof
3/8 NPT threaded inlet/outlet
Bolt-on fitment, brackets included for :
• Porsche 964
• Porsche 993

Kit made for the type of injectors :
• Bosch EV14 L

Give your engine over-dimensioned fuel flow for serious power outtake and the looks that are the Nuke Performance signum. Designed to look awesome and perform even better, this motorsports-grade fuel rail is the Porsche 964 / 993 fuel rail with the most functionality and delivered with unique injector safety clips and bolt-on brackets for a safe and easy mount to this popular 6cyl engine from Porsche. This is the new motorsports range of fuel rails from Nuke Performance, their lightest fuel rails ever with a new line of fittings and injector safety clips.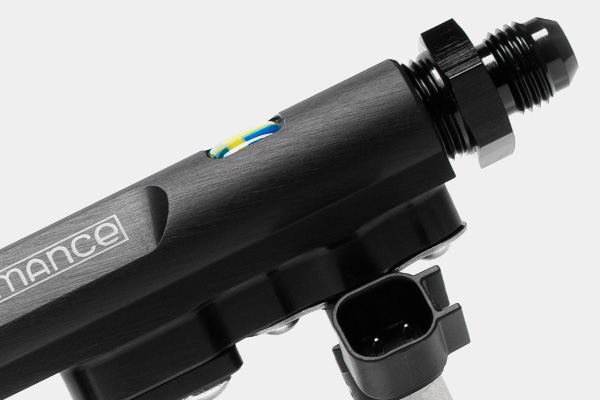 Developed with high demands from motorsport
Co-developed with worldwide Porsche tuners and motorsports teams, these fuel rail is set to perform under all conditions and for any horsepower requirement. This is the best fuel rail on the market for the Porsche engine with the highest flow capacity.
Inlet and outlet thread is 3/8" NPT and fittings are available for AN-6 to AN-10 and sold as additional accessories, choose the right sized fittings for your preferred setup.
3/8 NPT to AN-6 Male Part #: 700-04-101
3/8 NPT to AN-8 Male Part #: 700-04-102
3/8 NPT to AN-10 Male Part #: 700-04-103
3/8 NPT Banjo to AN-6 Male Part #: 700-03-104
3/8 NPT Banjo to AN-8 Male Part #: 700-03-105
3/8 NPT Banjo to AN-10 Male Part #: 700-03-106
PTFE Thread Seal Tape 12x.0.75mm x10m Part #: 700-05-201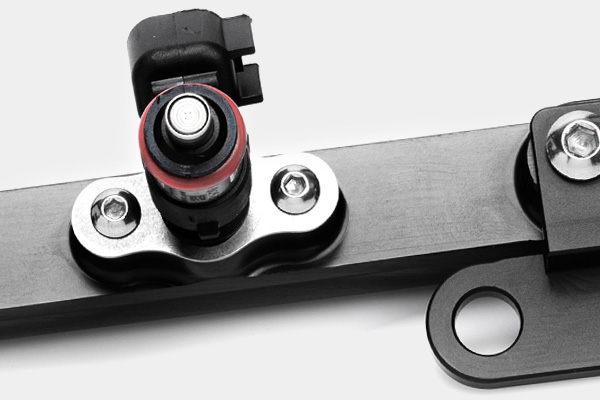 Injector Safety Clips ensures sealing and safety
A Nuke Performance unique feature is the injector safety clips that ensure the injectors maintain a perfect sealing even during extreme fuel pressure usage. Whether during assembly, installation on the engine, or in the unfortunate case of an accident, the injectors will remain solidly to the fuel rail. No fuel is spilled even if the fuel pump continues to run or there is latent pressure in the fuel system. And when running high fuel pressure, the risk of the fuel rail rising from the injector disappears and you do not have to worry about engine fires due to unwanted fuel spray.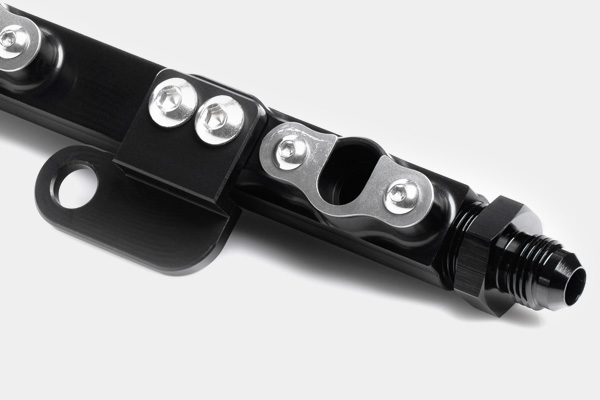 Bolt-on solutions including the needed fittings and brackets
This Porsche 6cyl 964/993 Fuel Rails kit comes with all needed brackets for your fuel system installation. The kit comes with sturdy lightweight stainless steel brackets that guarantee a perfect fit against the Porsche intake and preventing any leaks and fuel pressure malfunctions. Make sure to use PTFE thread seal for all NPT fittings.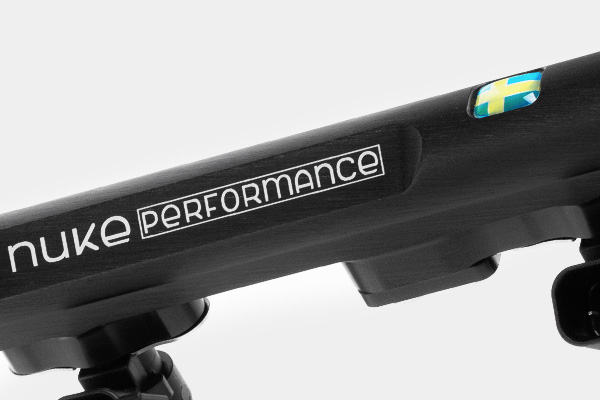 Made in Sweden, guaranteeing the highest possible quality
The Porsche 6cyl 964/993 Fuel Rails motorsports fuel rail is developed, designed, and manufactured by Nuke Performance for the highest possible quality and with the same hallmark as all the other parts in the lightweight motorsports range. There is no substitute for the quality of Nuke Performance!

Porsche 964/993 Engine Motorsports Fuel Rail includes:
2 x Motorsports Fuel Rail, 3cyl
2 x Stainless steel lightweight brackets
12 x Stainless steel M6x8mm for fuel rail brackets
6 x Stainless steel injector safety clips
12 x Stainless steel M4*6mm for safety clips
2 x 1/4 BSPP plug