GM Fuel Rail 8cyl LS1, LS2, LS3, LS6, L76, L99 Bolt-On Kit
FAST SHIPPING WORLDWIDE
60 DAY SATISFACTION GUARANTEE
SAFE AND SECURE PAYMENT METHODS
Description
Nuke Performance Chevrolet LS High-Performance Fuel Rail
GM / Chevrolet "LS" high-performance bolt-on Fuel Rail kit for LS1, LS2, LS3, LS6, L76, L99. Motorsports fuel rail with unique injector safety clips that fits both common intake styles. 100% safe for alcoholic fuels such as ethanol.
Lightweight motorsports fuel rail
Unique injector safety clips
Made in Sweden
100% E85 Proof
Delivered with AN-8 fittings
Bolt-on fitment, everything is included for :
• GM LS1 • GM LS2 • GM LS3 • GM LS6 • GM L76 • GM L99
Give your engine over-dimensioned fuel flow for serious power outtake and the looks that are the Nuke Performance signum. Designed to look awesome and perform even better, this motorsports-grade fuel rail is the market-leading Chevrolet LS fuel rail with the most functionality and delivered with unique injector safety clips and bolt-on brackets for a safe and easy mount to any of the listed LS engine models.
Developed with high demands from motorsport
Co-developed with worldwide motorsports teams, this fuel rail is set to perform under all conditions and for any horsepower requirement. This is the best 3/4" UNF fuel rail on the market for the LS engines with the highest flow capacity.
Delivered with AN-8 fittings with alcoholic-fuel safe Viton o-rings. AN-6 and AN-10 fittings is optional.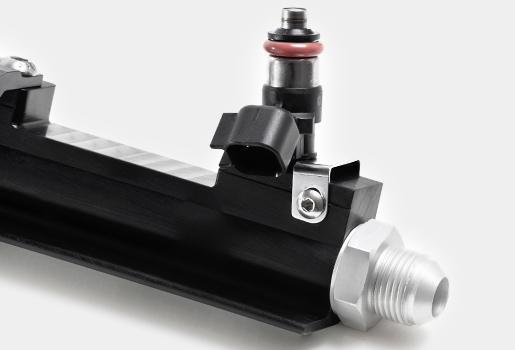 Injector Safety Clips ensures sealing and safety
A Nuke Performance unique feature is the injector safety clips that ensure the injectors maintain a perfect sealing even during extreme fuel pressure usage. Whether during assembly, install on the engine or in the unfortunate case of an accident, the injectors will remain solidly on the rail. No fuel is spilled even if the fuel pump continues to run or there is latent pressure in the fuel system.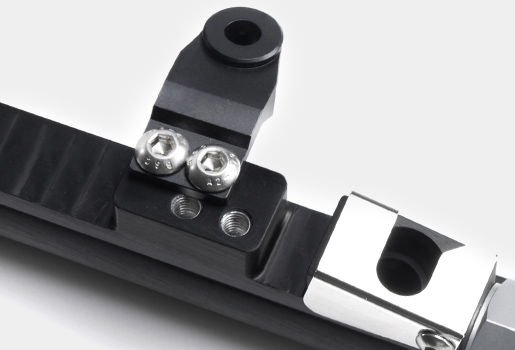 Lightweight bolt-on brackets, everything you need is included
Bolt-on lightweight aluminum brackets are included with the kit, designed to work with both common LS intake heights and styles, ensuring compatibility across the entire range of LS engines. Assembly instructions are delivered with the kit, we ensure that everything you need is included within the kit, add injectors of choice and you are ready to go.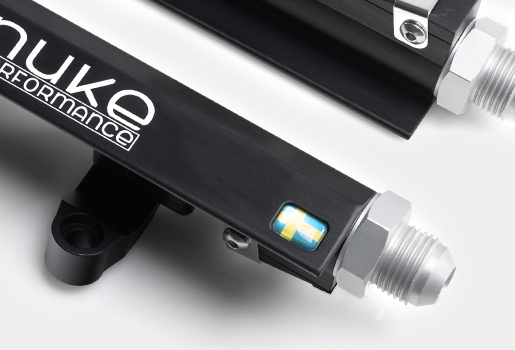 Made in Sweden, guaranteeing the highest possible quality
Developed, designed and manufactured in Sweden, inhouse by Nuke Performance. This is of the highest possible quality and with the same hallmark as all the other range of the lightweight motorsports range from Nuke Performance.
This guaranteeing the highest possible quality - there is no substitute for the quality of Nuke Performance.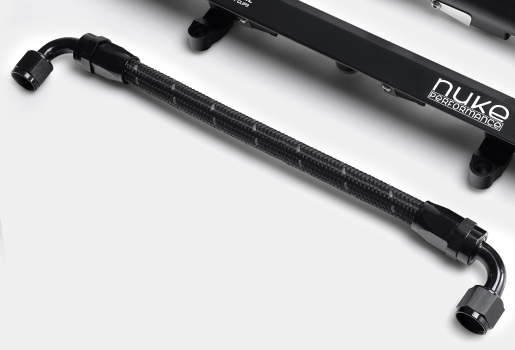 Optional AN-8 braided fuel hose cross over plumbing kit
If wanted, choose the cross over plumbing kit that makes a true bolt-on solution for installation for the LS engine range. Comes with 2x AN-8 90° hose ends with an E85 proof braided fuel hose.
A lightweight and convenient option for fast and secure installation.
Partno: 100-07-204
LS Fuel rail kit includes:

4 x 3/4 UNF AN-8 fittings for inlets / outlets
4 x Viton o-ring, safe for ethanol and petrol use
2 x 1/4 BSPP Plug for middle outlet ports
8 x M6*12mm for LS1 type mounting
8 x M6*8mm for LS3 type mounting

16 x M4*6mm for safety clips
8 x Stainless steel injector safety clips
4 x Aluminium mounting brackets
4 x Aluminium distance brackets
Technical info
Fits injectors :
• LS1 type fuel rail : Bosch EV 14 L
• LS3 type fuel rail : Bosch EV 14 K Compact
Technical information :
• Machined aluminium extrusion 6082-T6.
• Delivered with 4x 3/4 UNF AN-8 fittings and 2x 1/4 BSPP plug.
• 100% safe for alcoholic fuels such as E85.
• Extremely lightweight design for motorsports use.
• Stainless injector safety clips for safe seal operation.
• Billet bolt-on brackets for listed LS engine range included with the kit.
• Anodized finish for long lasting function and corrosion free appearance.
• 17,5mm internal diameter which guarantees high and reliable flow.
• Laserengraved and proudly branded with the Swedish flag.
Measurements :
Height : 36 mm
Depth : 33 mm
For Length and Weight for fuel rails,
contact us
for more info if needed.
You may also be interested in