Universal Bracket
Nuke Performance Universal 65mm Fuel Pump / Fuel Filter Bracket
We offer this for motorsport specially designed bracket solution for aftermarket fuel pumps and fuel filters. The bracket can hold on to larger items thanks to its internal diameter of 65mm, included with the bracket comes an insert with 60mm internal diameter to hold Bosch 044 / Deatschwerks 350il / AEM 380il and other 60mm fuel pumps. We also have additional inserts for Nuke Performance Fuel Filters (slim versions) and the Walbro GSL392.
Lightweight and high durability design and function
Extremely low weight and high durability, bracket for all kind of motorsport usage. Used when you need to rely on the installation at all times.
When using our Universal Bracket, combine it with our Fuel Log Collector 4-P to really get a clean, space efficient and functional setup.
Available for 65mm* / 60mm / 55mm / 43mm
* without insert, maximum size of bracket.
ASSEMBLY INFORMATION
SPARE PARTS / ACCESSORIES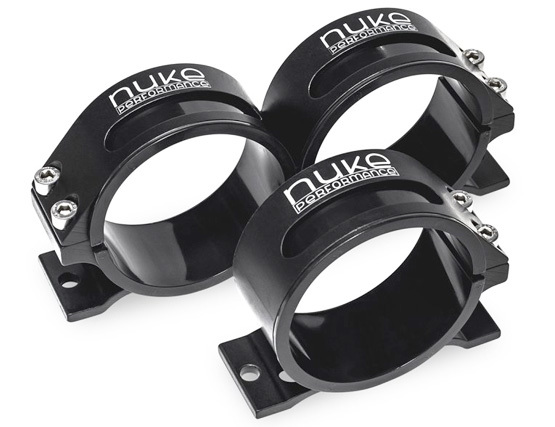 ---
DID YOU KNOW THAT ALL OUR PRODUCTS COMES WITH A 60 DAY SATISFACTION GUARANTEE?
WHEN ORDERING OUR RANGE OF PERFORMANCE PARTS ONLINE WE OFFER FAST SHIPPING WORLDWIDE